The smell of her hair, the taste of her mouth, the feeling of her skin seemed to have got inside him, or into the air all round him. She had become a physical necessity.
Here's to all the places we went. And all the places we'll go. And here's to me, whispering again and again and again and again: I love you.
Love lets you find those hidden places in another person, even the ones they didn't know were there, even the ones they wouldn't have thought to call beautiful themselves.
Most Popular Love Quotes
by Oscar Wilde
"
Don't try to comprehend with your mind. Your minds are very limited. Use your intuition.
He sweeps her hair back from her ears; he swings her above his head. He says she is his émerveillement. He says he will never leave her, not in a million years.
Every atom of your flesh is as dear to me as my own: in pain and sickness it would still be dear.
Emily C.
Audible Editor
"I have for the first time found what I can truly love—I have found you. You are my sympathy—my better self—my good angel."
Jane Eyre
01
Tricia F.
Audible Editor
"When you make loving others the story of your life, there's never a final chapter, because the legacy continues. You lend your light to one person, and he or she shines it on another and another and another."
Oprah Winfrey
02
Michael C.
Audible Editor
"I bet you could sometimes find all the mysteries of the universe in someone's hand."
Benjamin Alire Saenz
03
"
It is better to love wisely, no doubt: but to love foolishly is better than not to be able to love at all.
For the two of us, home isn't a place. It is a person. And we are finally home.
In vain have I struggled. It will not do. My feelings will not be repressed. You must allow me to tell you how ardently I admire and love you.
For the Love of Quotes
There's something about loving someone that leaves us constantly searching for the right thing to say. Fortunately, whether it's true love or a loving friendship, there's always a good love quote to bring a smile to that special someone's face. So, here's to more love, more happiness and more love quotes!
More to Explore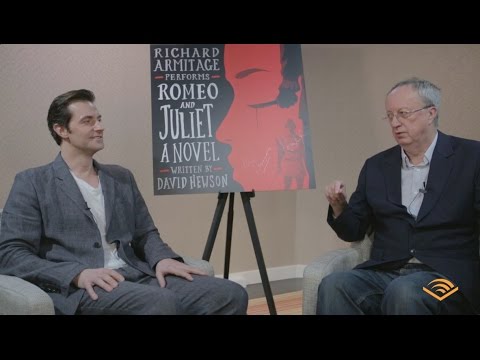 Romeo and Juliet: A Novel, From Pen to Performance.
"Why Romeo and Juliet? I think, well, first and foremost it's a great story. It's got love. It's got the thriller element."
Watch Now
Judith Light Brings Audible Theater to Light with 'All The Ways to Say I Love You'
A true talent talks about the importance of hearing great stage performances — even if you're nowhere near Broadway.
Listen Now